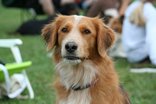 I know a lot of people out there think that all trainers' dogs are good and easy. That person might be you. You might think that everything we demonstrate is very easy because our dogs must be so well trained and love to work. While our dogs are well trained, it doesn't mean it is easy. A lot of us take on dogs with troubled pasts. We take on the difficult dogs. I want to give you a little background on my dog Kali.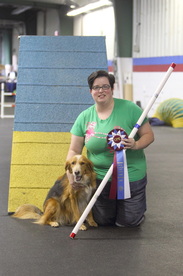 I got her at three months old. She already had a history of abuse. She was extremely fearful. She wouldn't even go through a doorway carpet to carpet. For the first three months I had her, I had to carry her down two flights of stairs just to take her out. Imagine trying to potty train a dog that is afraid to go through a doorway. She was completely shut down to the point of stress induced epilepsy. She was incredibly hand shy and just afraid of everything. The next few years were an emotional rollercoaster. I was determined to help her and give her a happy life. With patience I slowly built her confidence. When she was about a year old, I started her in agility classes. At the time, I had no intention of ever competing. I just thought it would be fun. Agility really helped build her confidence. By the time she was two years old, she was off all epilepsy medication. She even became a therapy dog. When she was four, we started competing in agility competitions. By the age of seven, she was an agility champion.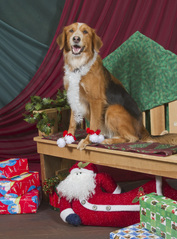 Around that time is when I started the Karen Pryor Professional Program. I used Kali throughout that program. It was then, that I saw her reach her true potential. Clicker training changed her in ways I never dreamed possible. To watch her change right before my eyes was incredible. She now exudes confidence. She has become the most stable dog I could ever imagine. She has become my demo dog.

This blog is not to brag or anything like that. I just want to encourage all you that have fearful or shut down dogs. This is what's possible. Kali took a lot of time, patience and love but in the end it was all worth it. She went from a scared shut down dog to a balanced demo dog.