Meet The Trainer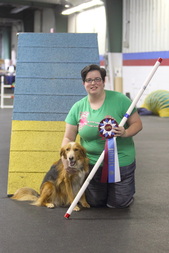 Rachel Fein, KPA-CTP, CTDI
Rachel grew up working with dogs. Her first experience with training came with her dog, Nico, when she was seventeen. She later trained a rescue dog named Kali. Kali went on to earn a champion title in agility as well as titles in obedience and tricks. Rachel has participated in agility, dock diving, tricks, obedience, nose work, and therapy work. Her young dog, Flash, is competing in agility and disc dog. Flash has also earned her Trick Dog Champion title. In addition, she enjoys herding, dock diving, and obedience. Rachel enjoys the chance to participate in new activities and loves to have fun with her dogs.
Rachel is a force-free trainer. She loves to help owners bond with their dogs through positive reinforcement training and has been working with dogs for more than 10 years. In that time, Rachel has worked with dogs of various ages, breeds, backgrounds, and temperaments. She has trained dogs for agility course work, herding, dock diving, tricks, obedience, and therapy work, and has worked with dogs and owners to solve behavioral problems. A Karen Pryor Academy Certified Training Partner (KPA CTP), Rachel is also a certified trick dog instructor.
In addition to training clients' dogs, Rachel also trains emotional support animals for Pets for Vets. Pets for Vets rescues dogs from shelters and trains them. The dogs are then placed with veterans. These animals help heal the emotional wounds for the veterans. Its a win-win for both the animals and veterans.
Rachel has also been selected as the August 2015 KPA CTP on the Month. This is a great honor for any dog trainer. To read more click here.

Continuing Education:
•Advanced Crate Games by Katie Oilschlager
•Body Awareness & Core Strengthening by Katie Oilschlager
•The 5 Minute Formula for Recall Success by Susan Garrett
•Puppy Peaks by Susan Garrett
•Handling 360 by Susan Garrett
•From Maddening to Maturity by Suzanne Clothier
•Sense(s) & Sensibility Seminar by Patricia McConnell and Steve White
•Certified Trick Dog Instructor Course
•Disc Dog Foundations by Ron Watson
•Intro to BAT by Grisha Stewart
•BAT 2.0 by Grisha Stewart
•Certified BAT Instructor Course by Grisha Stewart
•Pawsitive Vybe Disc Dog Camp by Ron Watson (x2)
•Clicker Expo
---