By: Rachel Fein, KPA CTP, CTDI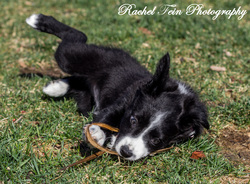 It all started February 16th, 2013 when a litter of border collie puppies were born in Minnesota. Everything seemed great. As the litter matured, I knew exactly which puppy I wanted. She was smart and high drive. She was working from the time she was six weeks old and she was fearless. Or so we thought. The day came to pick her up. I drove up to Minnesota and brought her home. I named her Flash. She immediately took a liking to my other dogs. I enrolled her in puppy class and began the enormous task of socializing this young pup. I was determined to do everything right. She was enrolled in three different puppy classes; AKC Star Puppy, Puppy Kindergarten and Puppy Socialization. I was bringing her along to agility classes and taking her all over. I was bound and determined to do things right with her.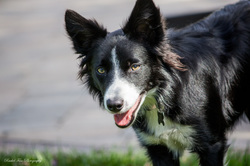 Then one day she was hurt by another puppy in class. From that day forward, everything had changed. You see the weeks 6-12 are the most important time in a puppy's life. It is time they are most impressionable. Flash learned in those short few seconds that dogs would hurt her. She quickly developed a fear of dogs. I was working really hard with her and she seemed to be doing better. Then at six months she got her first rabies vaccine. That's when she started to spiral downhill. She could not be within 100 yards of another dog without barking and lunging. The vet called it rabies vaccinosis. We tried a detox and herbal supplements but nothing seemed to matter. One day in agility class, we were finishing up a run and one of my classmates took her dog out of its crate. The dog didn't do anything wrong, but Flash charged it. Luckily she did not bite but it was the last straw for me. Something had to be done.

We decided to put her on a low dose of Prozac. That's when things finally started to improve. The Prozac made it so Flash had at least a little bit of a threshold. She could see a dog in the distance and not react. This allowed me to start actually working with her and helping her get over her fear. There was finally HOPE. This began the long and bumpy road to recovery.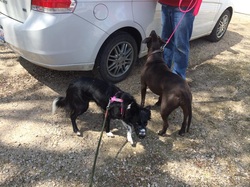 In the beginning I started with a combination of methods. I did BAT setups with other dogs that I trusted. I also worked heavily on auto-checkins in situations where I knew there would be other dogs, like agility class.

The first BAT setup went well but we could not get close. The second time I decided to have Flash do some following instead of just approaching the dog. This worked wonderfully. By the end, both dogs were walking next to each other and hanging out. It was an emotional time for me. I cried tears of joy because this is when I knew anything was possible. After that the setups became shorter and shorter. She was finally starting to make some doggy friends.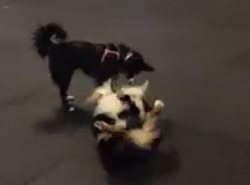 While she was making friends with calm and soft dogs; motion and hard dogs still set her off. So I started sitting outside the agility ring while other dogs were running and rewarding every time she checked in with me. At first she needed to be really far away. But slowly we were able to get closer and closer.

Last night Flash showed me just how much the hard work has paid off. We sat right outside the agility ring with another dog running and she did not react at all. She was getting a lot of treats but she was earning them by making wonderful choices. Then after class she was hangout in the lobby with another dog. She even said hello a few times. We kept the interactions short but she did wonderfully.

Flash has gone from a dog that couldn't be within a hundred yards of another dog to a dog that can interact with other dogs. The work is not done yet but she had made huge improvement. We will get past this.